European fintechs have raised over $3bn since lockdown began, but where's that money gone?
Europe's fintech startups have continued raising vast amounts of capital over the lockdown period, attracting around €2.86bn ($3.4bn) in investment between March and mid-August, according to Dealroom data.
Despite a brief funding blip in March, the second quarter of 2020 saw fintechs rake in €1.7bn; only slightly down on the €2bn raised in the first quarter.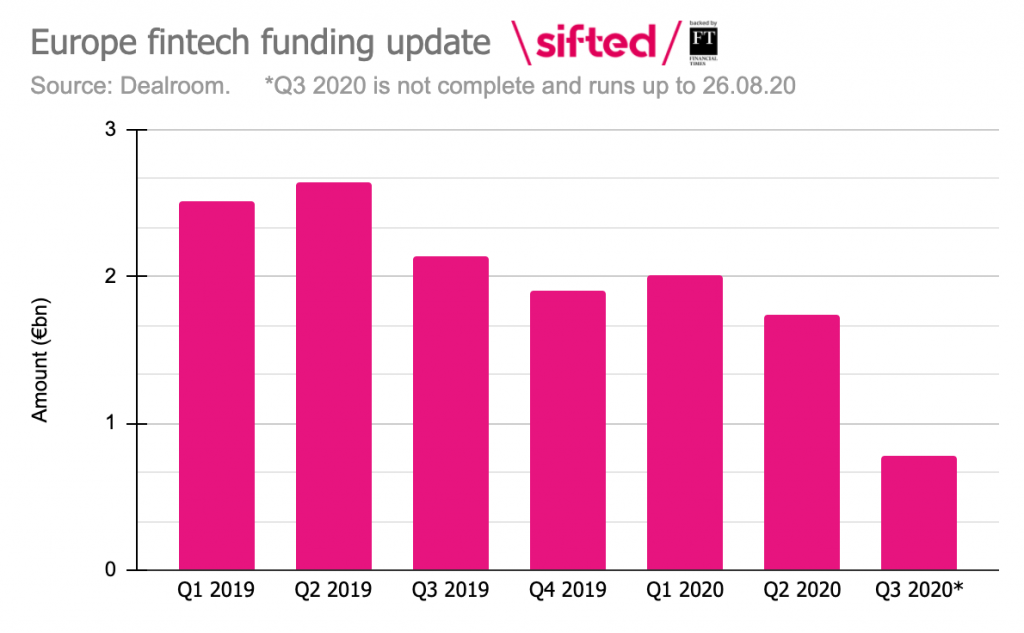 It's not yet clear how badly fintechs' valuations have been affected in recent months, but according to PitchBook, investors in Europe seem confident that long-term macro trends (including accelerated digital adoption) will "broadly favour" the sector.
Still, not all sub-sectors within fintech have attracted the same level of investor backing.
The analysis below breaks down the monthly funding data by sub-sector, including payments, banking, wealthtech, lending and insurtech, to understand how each area of fintech has performed with venture capitalists* in recent months.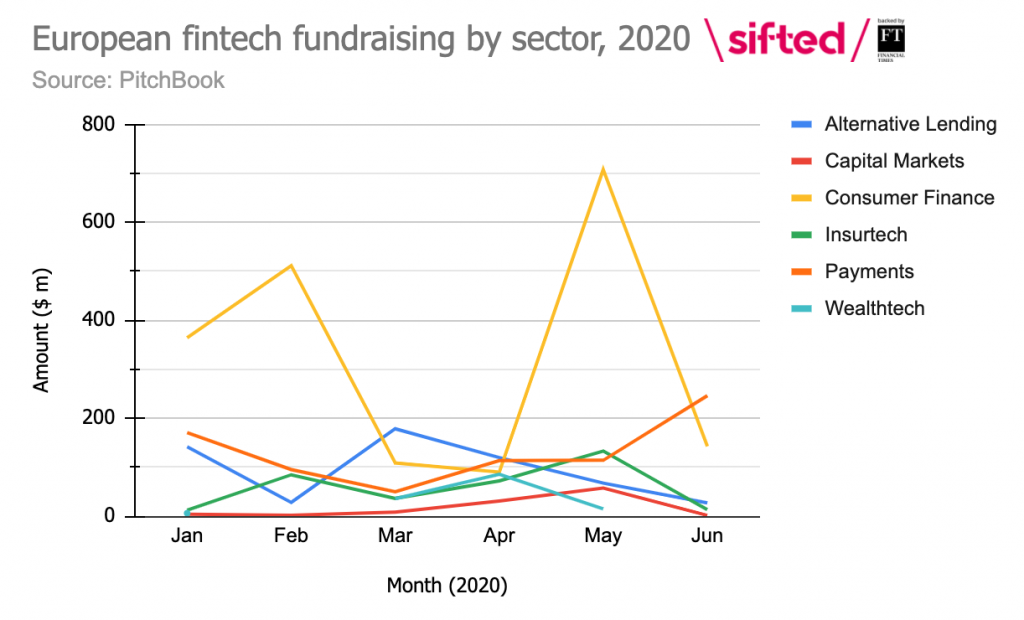 * PitchBook's data focuses only on VC-backed fintechs.
Key takeaways
Consumer fintechs are carrying the sector in terms of funds raised. This segment actually had a record quarter in Q2 thanks to a number of mega-rounds (see full list at the bottom of this article). The funding boom here may well be because these companies are still heavily loss-making, meaning they were most in need of additional funds. However, PitchBook analysts are particularly bullish on this sub-sector, expecting the market to grow incrementally thanks to increased digital adoption. There have also been some healthy exits, including Cardiff-based Anna Money and France's Shine in recent months.
Alternative (or non-bank) lending firms like Zopa saw one of the biggest drops in funding over lockdown. Europe's alternative lenders raised $62m in the first half of 2020, down from $100m in the first half of 2019, according to PitchBook.
Wealthtech saw a record year for global investment in 2019, buoyed by the US' Robinhood. Yet the start of 2020 saw a 45% funding drop in Europe. Despite users flocking to trading apps, PitchBook analysts predict that investors "are still sorting out the impact of a downturn" on these companies.
The payments sector is on track to exceed last year's record investment. It's also worth noting that this area is proving particularly popular with incumbents and their venture arms, including Mastercard's recent investment in invoice-firm Previse.
European infrastructure providers (focused on capital markets) are still lagging in investment. But if the US is anything to go on, it's a sub-sector that should attract growing attention. Notably, America's Carta raised a chunky $210m Series F round in June.
Source:
sifted
---
---
---
Interested to be featured on our news page or magazine?
Contact us!